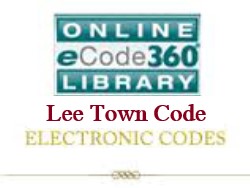 CLICK HERE TO VIEW THE LEE PROCEEDINGS OF THE SEPTEMBER 1, 2020 PRIMARY
PRESIDENTIAL ELECTION - NOVEMBER 3, 2020
AN ELECTION DROP BOX FOR BALLOTS AND APPLICATIONS IS LOCATED AT THE ENTRYWAY TO TOWN HALL NEAR THE ELEVATOR
Early Voting: Town Hall Courtroom (Use side entrance by church)
Saturday October 17 & Sunday October 18 - 8:30am-10:30am  
Saturday October 24 - 2pm-4pm
Sunday October 25 - 8:30am-10:30am
Monday - Friday (October 19-30) - 8:30am - 4pm
CLICK HERE FOR A VOTE BY MAIL APPLICATION
CLICK HERE TO TRACK YOUR MAIL IN BALLOT
CLICK HERE TO REGISTER TO VOTE ONLINE
CLICK HERE TO CHECK VOTER STATUS
LAST DAY TO REGISTER TO VOTE:  October 24 - Town hall open 2-4pm and 7-8pm for voter registration
ELECTION OBSERVERS MUST PROVIDE ADVANCE NOTICE to cbrittain@town.lee.ma.us
Town Clerk Services – COVID 19
Town hall is closed to the public as well as town offices.  The Town Clerks office will have minimal staffing during this pandemic.  We will work within reason to accommodate public requests, keeping the safety and well-being of our staff and the public in mind.
Please take note of the following services that the Town Clerks office provides and is able to continue:
Please reach out with any questions or concerns.  We can be reached by email, cbrittain@town.lee.ma.us ,or by leaving a message at 413-243-5505 and  someone will be in contact with you as soon as possible. 
Thank you for your patience and understanding during this difficult time for our fellow citizens.  Please follow State guidelines for the health and safety of yourself and others.
Business Certificates (D'B'A'S, Doing Business As)
New Certificates/Renewals can be done by mail. 
If you are being required to show proof of filing, please contact the town clerk at cbrittain@town.lee.ma.us and we will email a pdf of your certificate.
Dog licensing
To obtain a dog license please mail a copy of your dog's rabies certificate, a self-addressed stamped envelope and a check for $15 per dog (payable to "Town of Lee") to Town Clerk – 32 Main St – Lee, MA 01238.  We will mail your dog license and tag to you.  Cost with out a stamped envelope is $16
Marriage Intentions
This service will be provided by appointment only.  Please keep in mind that there is a (3) three day waiting period and a license is good for (60) sixty days. Please contact the Town Clerk at cbrittain@town.lee.ma.us or 413-243-5505.
Oath of Office for Board and Committee Members
Public Record Requests
Please submit any public records request by email cbrittain@town.lee.ma.us
We will do our best to fulfill these requests during this pandemic. With Town offices not open to the public, there may be some information that may be delayed due to research that may involve records that are not easily accessible now.  
Town Meeting
Annual Town Meeting with be October 1 2020
Vital record request
Birth, Death and Marriages certified copies.
Please click HERE for mail in vitals request form.
Tag Sales
FEE:  $3 PER DAY

Send check and the information listed below to:  Town Clerk - 32 Main St.  - Lee, MA 01238

APPLICANTS NAME, LOCATION  OF TAG SALE, DATE(S) OF SALE  *INCLUDE* A SELF ADDRESSED STAMPED ENVELOPE OR EMAIL ADDRESS TO RECEIVE THE PERMIT.  DURING COVID-19 DECLARATION OF EMERGENCY: Applicant must comply with social distance rules,  handling of merchandise and gathering limits.