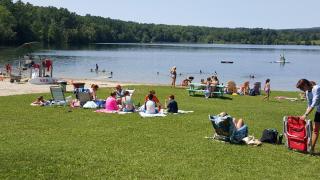 Sandy Beach is closed until further notice due to concerns about safely opening during the COVID-19 pandemic.
The following information is from prior years and will be updated as restrictions change:
WELCOME TO SANDY BEACH
Sandy Beach on Laurel Lake is the public swimming area for the town of Lee.  As per a 90-year tradition, Sandy Beach opens on the last day of school and closes on Labor Day. 
The hours during the summer are from 10 am to 8 pm.
This secluded beach lies in a hidden cove on the lake. The beach can be reached from Route 20. If you head north from Lee on Route 20,  take a left after an antiques store called Retro Pop Shop, and follow the road up the hill to the beach parking lot. If you arrive at the beach during open hours the lifeguard is off duty, please be careful. As the sign says, swim at your own risk. 
Comfortable Adirondack chairs, a volleyball net, and toys for children are available to all.
The shady picnic grove is popular during the summer with local organizations and families celebrating birthdays or reunions.
Sign ups for swimming classes will begin during the third week in July.
SANDY BEACH ACCESS and PARKING
Through the ongoing generosity of High Lawn Farm, Laurel Lake Water Power and Tom & Katie Scheurer, Lee residents and their guests will again be able to enjoy Sandy Beach at Laurel Lake this summer.  Access to the beach parking area will be open  from 10:00 am to 8:00 pm on days the beach is open, but a beach parking sticker or pass will be required.
The stickers are restricted to Lee residents (seasonal and year round).  Their guests and paying guests of motels, B&B's, Inns, and October Mountain State Park campground may obtain a day use pass.  The beach parking stickers/passes are free of charge and may be obtained from the Lee Police Department at Town Hall, at 32 Main Street.  Guest passes may also be obtained from the beach access control officer when s/he is stationed at the access road gate.
Proof of residency is required to obtain the resident seasonal parking sticker.  It is valid only for use by year round and seasonal residents of the Town of Lee.  Passes may be obtained by Lee residents for their guests and are valid only for the date listed on the pass.  Passes for those paying guests of motels, B&B's and Inns located within the Town of Lee as well as campers at October Mountain State Park campground are also available free of charge.  These guest passes require proof of lodging.
For more information about the parking restrictions at Sandy Beach, please contact the Lee Police Department at 413-243-5530.
Please remember that alcohol is not permitted at the beach; and, to drive slowly on the private access road to the beach and in the parking lot.
SANDY BEACH COMMITTEE and LEE POLICE DEPARTMENT
Memorial Hall
Lee
Beach Questions:  Samantha Sorentino: email at [email protected]
Access or Parking Questions: Lee Police Department  413-243-5530